Good afternoon Ironmen of Golf – the 29th edition of the Ironman is officially in the books; congratulations to our Overall Champion, Ken Andrews, for solid Skins and Individual rounds that vaulted him past Jason Norma for his first Ironman Champion trophy. Also, congratulations to Jay Yellott for easily securing the "I Walk Alone" award after absorbing a $4,479 bar bill at the course and our Green Jacket winner, Tripp Moore.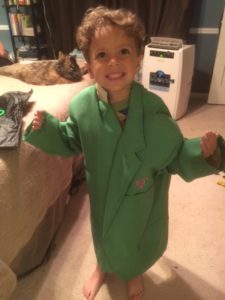 By the way, it has been reported that Tripp is forcing his young son (left) to wear the green jacket, which is in violation of Ironman rules.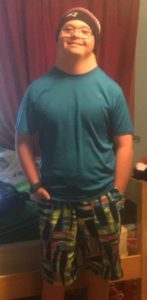 Also check out this cool shot of David Mains' son (right) wearing Loudmouth!
For your reading enjoyment: the final Player's Pack, including scores and winnings. It was great seeing everyone this year and I look forward to seeing all of you at next year's tournament. Mark your calendars – the 30th Annual Ironman Golf Tournament will be held on May 18-20, 2018. See you next year on Jekyll!